NOW OPEN
We're back. Some items are discontinued and the snap and swivel have changed to a brass swivel and slightly different snap design.
This is the new style snap and swivel that will be on all products.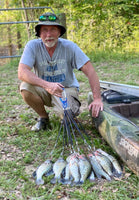 Yak Line
A fishing stringer designed by a kayak fisherman for kayak fishing. Most stringers are too long and can snag onto structure under the surface. If a rope is used you have to untie it every time you need to put another fish on. This stringer remedies those problems. The carabiner hooks to the side handles on most kayaks(for a kayak without side handles you can purchase the optional stainless steel eye nut and mount it to your gear track). The short leaders hold fish shallow. You can leave the leaders in the kayak until a fish is caught, then hook em up and drop em over, one at a time. The large carabiner also works as a handle when carrying your catch.